BOOKS on PHILATELY
Philatelic Bibliopole
Leonard H. Hartmann
RAILROAD & STREET CAR TRANSPORT
---

Catalog of Private Express Labels and Stamps United States 1839-1918, Canada 1841-1926, Mexico 1860-1918
by Bruce H. Mosher
Tremendous interest for various fields from Local to National Postal History, Express Companies, Cinderellas and even some Forgeries.and Bogus
2002, 209 pages, card, long sold out
2018, second edition, 508 pages, card, 140 full color illustrations and many more B&W ones, $75.00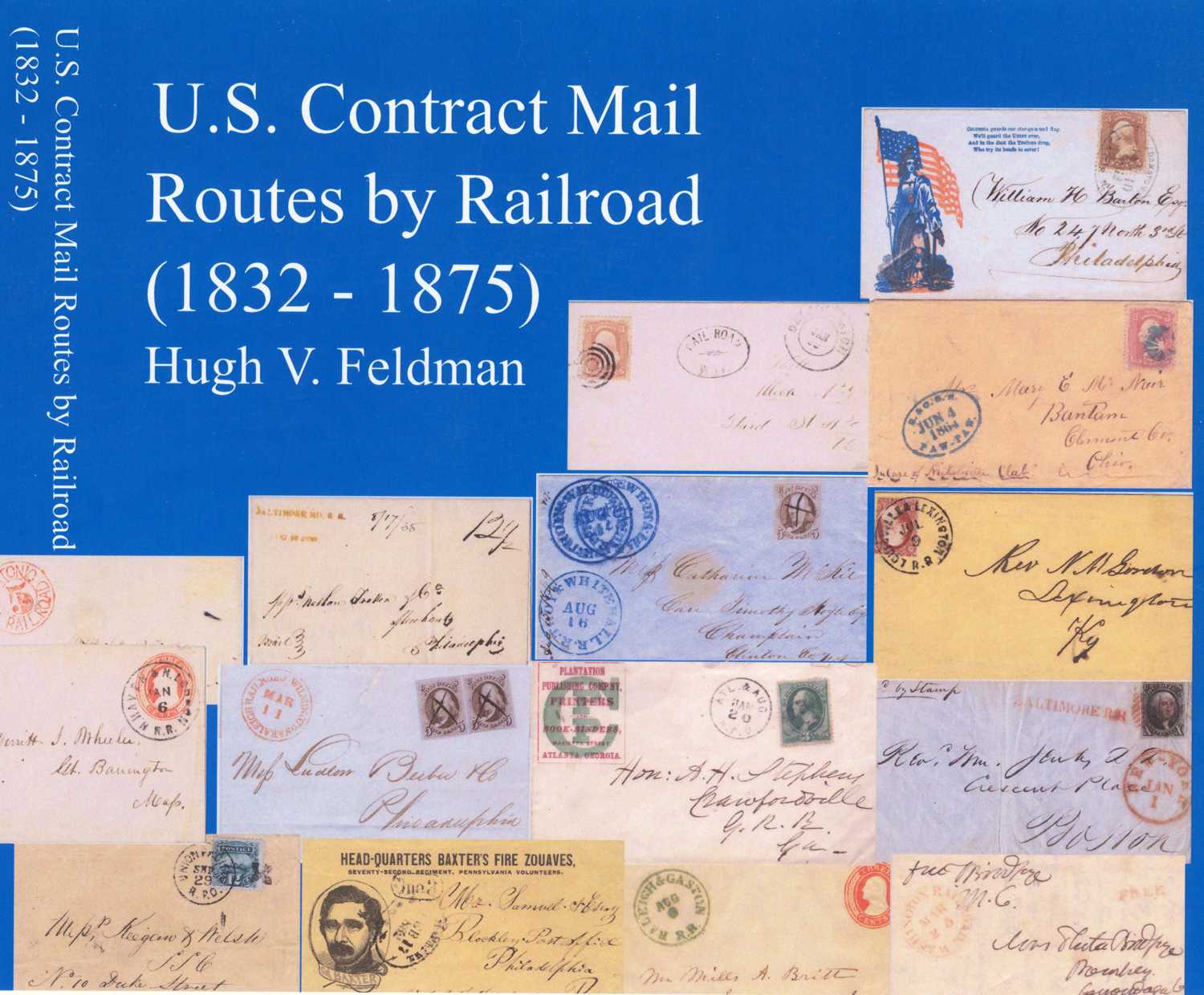 U.S. Railroad Contract Mail Routes
(1832-1875)
by
Hugh V. Feldman
This book presents the development of the early railroads in a historical context focusing on the establishment, routes and the cities and towns served as it relates the philatelic information. The mail contract route information is presented in a well-organized manner including dates, route numbers, contract agreement and cost per mile. The arrangement is by state accompanied by charts, copies of detailed maps locating town and a detailed list of the stations served on the various mail contracts.

The mail contracts normally have the individual stops and dates thus one may be able to bracket in time when a specific station was in use.

This book runs 1,096 pages. in full color, hard bound, dust jacket, illustrates 242 covers, 582 maps and 360 other images. A DVD is included containing over 800 covers many are not illustrated in the book, PMG annual reports and other reports to Congress between 1817 and 1878, these run about 10,000 pages. Also included are images of the manuscript Railroad Contracts by States, 6,773 in all. We think these contracts have never been reproduced before.

Additional philatelic information is presented through the many covers included in the text that were carried by railroads in each respective states. These are described in detail and the appropriate references are included to assist philatelists in their research.

Published at $97.50 plus postage, postpaid to a U.S. mailing address, $107.50, postage to other countries is the published price of $97.50 plus actual postage, to Canada is $45.95 and to Mexico, most other countries $69.00

In the UK the book is available from Hugh V. Feldman FRPSL, Juniper House, Ashdon, Saffron Walden CB10 2HB, UK Tel: 01799 584579 email: hugh@Feldman.f9.co.uk. Price will be £89.00 plus postage within the UK.
The Western Express Companies, Their Franks and Hand Stamps
by Oscar Thomas The Western Cover Society has just released a DVD having 100 pages and 1,000 images of material that is not in the original book and also the text of the original book. This DVD is available for $38.00 and it is now included with the original book at no additional charge.
The only comprehensive coverage of the subject, Included with each set of books is a DVD with over 4500 scans of western covers, 2013, two volumes, 900, full color, cloth, edition of 300 copies, $250.00.
Just Out
Catalog of Private Express Labels and Stamps United States 1839-1918, Canada 1841-1926, Mexico 1860-1918 by Bruce H. Mosher Tremendous interest for various fields from Local to National Postal History, Express Companies, Cinderellas and even Forgeries.
2002, 209 pages, card
2018, second edition, 508 pages, card, 140 full color illustrations, $75.00
U.S. Railroad Postmarks 1837 to 1861 by C. W. Remele The standard work on the early markings. 1958, 169 pages, cloth, $225.00
Railroad Postmarks of the United States 1861-1886 by C. L. Towle & Henry A. Meyer The standard work on the later markings. 1968, 379 pages, cloth, $90.00
Railway Post Offices of California and Nevada by Rod Crossley Details construction of the lines, the development of RPS, known markings. 1991, 204 pages, card, $35.00
Nebraska Railway Post Offices by William F. Rapp Maps of all routes with many illustrations of cancels and covers. 1995, 129 pages, cloth, $29.00
Postal Markings of the North Carolina Railroads by Tony L. Crumbley Includes Station Agents, Waterways, Routes, etc., well illustrated. 1994, 79 pages, card, edition only 200 copies, $12.00
The Milwaukee & Mississippi R.R. and its Postmarks by Roland L. Hustis 1952 reprint from the AP, 10 pages, self cover, limited sotock, $8.50
U.S. Route & Station Agent Postmarks by Charles L. Towle This volume completely replaces Vol 1 of the US Transit Markings Catalog, Covers 1,569 railway route agents and 184 waterway agents postmarks, etc.
1986, 485 pages, cloth, a major study, $77.50
Addendum, 48 pages, loose, $8.00
Historical Supplement to U.S. Route & Station Agent Postmarks A major addition to the book as it gives a most useful thumb nail sketch of the Roads along with maps. 1986, 124 pages, spiral bound, sold out
Appletons' Railway Map of the United States and Canada by G. Thomas A fine reprint of the 1869 map giving an overall view of the country. 1977 reprint of 1869 map, 23 x 25¼ inches, $12.50
Centennial Catalog of Arizona Railway Postal Markings by C. L. Towle 1980, 80 pages, card $15.00
Collection & Distribution Wagon Service 1896-1904 by James H. Bruns Detailed account of the service in Washington, New York, Buffalo and Saint Louis. 1986, 56 pages, card. $14.00
First Highway Post Office by James H. Bruns The experimental service between Washington and Harrisonburg, Va 1985, 84 pages, card. $14.00
The Horse Drawn Mail Vehicles by James H. Bruns Wonderful background and pictures of early mail carriages. 1996, 89 pages, card, $22.50, sold out
Street Car
Street Car R.P.O. Series by the Mobile Post Office Society
Philadelphia by Robert J. Stets, 1978, 44 pages, one overlay, card, enquire, $22.50
Brooklyn and New York City by John M. Price, 1979, 41 pages, two overlays, card $20.00, sold out
Baltimore by Douglas N. Clark and F. Edgar Ruckle, 1979, 41 pages, one overlay, card $20.00
Boston by Roger J. Heines, 1981, 46 pages $17.50
Chicago by John R. Mason and Raymond A. Fleming, 1983, 73 pages $22.50
Pittsburgh by Lloyd Booth, 1983, 59 pages $17.50
Washington, D.C. by Thomas E. Stanton and Robert A. Truax, 1983, 50 pages $15.00
Saint Louis by Robert G. Schultz 1984, 60 pages $22.50
San Francisco and Seattle & Seattle R.P.O., 1984, 60 pages $17.50
Cincinnati and Cleveland by K.T. Stewart; Rochester by D.N. Clark, 1986, 56 pages, $22.50, sold out
Encyclopedia of R.F.D. Cancels by Harold E. Richow
1983, 2nd edition, 281 pages, cloth bound as issued, $40.00
1983, 2nd edition, 281 pages, unbound signatures, only one sets available, $22.50
1995, 2nd revised edition, 272 pages, sewn signatures laminated cover, $55.00
County System of R.F.D. Dec 20, 1899-June 30, 1903 by Edith Doane A fine study covering the first experimental service. 1977, 199 pages, cloth $18.50
United States Highway Post Office Cover Catalog, 1987 First edition since 1974, circa 800 markings, most illustrated 1987, 67 pages, loose-leaf $16.50
Reaching Rural America: The Evolution of Rural Free Delivery by James H. Bruns An excellent historic background 1998, 118 pages, card, limited stock $15.00
Fresno and San Francisco Bicycle Post of 1894 by Lowell B. Cooper Detailed study of Banta's postal and philatelic local. The Wells Fargo activity during the ARU strike are also covered.
1983, 152 pages, 100 illustrations, cloth, edition of 500; $50.00
Deluxe edition, rag paper, ¼ leather, slip case, edition of 25; $300.00
The Handstamps of Wells, Fargo & Co., 1852 to 1895 by John F. Leutzinger The original edition has been the standard work on the subject since it appeared in 1968 book, the new edition is much expanded and improved. 1993, 382 pages, 59 halftones, over 300 markings, cloth, edition of 750, $45.00
Old Waybills, The Romance of the Express Companies by Alvin F. Harlow, An old classic, useful and enjoyable, 1976 Arno Press reprint of 1934 book, 501 pages, cloth, enquire
Stagecoarch East, Stagecoach Days in the East from the colonial Period to the Civil Way by Oliver W. Holmes and Petr T. Rohrback, 1983, 220 pages, cloth but no dj, one copy available, $25.00
The Traveling Post Offices of Uruguay by Jay Grace Walmsley, A wonderful story of the systems covering the Stage, Maritime and Trains with much history and detailed coverage of the markings, 2012, 135 + 4 pages, in color, cloth, edition of 80 copies, 3 copies available, $70.00
---
Return to PB Home Page
---
Philatelic Bibliopole
PO Box 36006, Louisville, Ky 40233, USA
A quick e mail to: Leonard, Leonard@pbbooks.net
Phone 502, 451-0317 but we prefer e-mails